If you're in the market for a new job, LinkedIn is where you want to be. Not only does LinkedIn help you form and nurture valuable professional relationships, and it can also help you discover jobs that are a strong fit for your skills and get discovered by hiring managers looking for talent like you. Learn the basics of how to find a job on LinkedIn and discover some additional tricks that will help you get the most out of the time you spend doing so!
Benefits of job searching on LinkedIn
Better jobs and fewer scams
Online job boards have a massive volume of job postings but also have a lot of spam. To find high-quality openings on the biggest job boards, you have to weed through at least a few listings that say things like 'commission only' in the fine print, among other red flags.
Because LinkedIn isn't as universally used to list jobs, it generally has fewer low-quality listings. Also, posting a job requires hiring managers to use a personal LinkedIn profile with their real name connected with a real company, so getting away with spam and scams is more difficult.
Your profile is always 'on'
On LinkedIn, your profile acts as a digital version of your resume (but with much more opportunity for customization and flair). It can be discovered by anyone at any time. If optimized correctly–more on this below–it will invite connections from people who can aid in your job search.
Convenient job searching features
We all know job searching can be tedious, filled with annoying tasks like completing multiple forms asking for the same information already in your resume. LinkedIn reduces some hassles with features like the 'Easy Apply' option to save job seekers time.
It's a two-way street
While you're looking for jobs on LinkedIn, recruiters are also on LinkedIn looking for YOU. This means you'll hear about more opportunities and there's a greater chance of discovering the right position in less time.
Tips for searching for jobs on LinkedIn
Perfect Your LinkedIn Profile
Before you search for jobs, ensure you're putting your best foot forward with your profile. Ensure every section is completed, especially for experience and skills.
LinkedIn works like a search engine, so you want to optimize your profile with keywords that will help the right people find it. To do this, consider the words and phrases recruiters will likely be searching for–skills are a big one–and incorporate them throughout your profile.
Write an attention-grabbing headline summarizing your professional capabilities, for example, 'Experienced front & back end developer | JavaScript, CSS, PHP.' This headline incorporates a job title and key skills, making this person's specialties clear to anyone searching.
Finally, ensure you're using a professional, friendly-looking profile picture. Accounts without a picture (or with a picture of anything other than the person) appear suspicious.
Open the door to recruiters
If you're job searching, one of the most important parts of your LinkedIn profile to complete is the 'Open To…' section. This gives you the option to publish your job search criteria, either to all users or to recruiters only.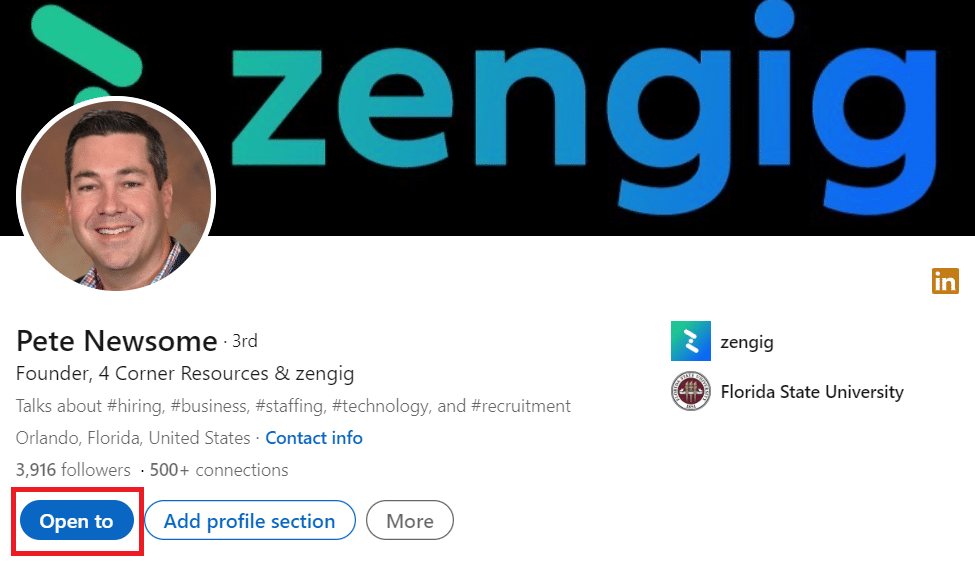 In this section, you can select what job titles you're interested in, whether you're seeking remote, onsite or hybrid work, your preferred location, and more. You can also specify whether you're open to having recruiters reach out to you, which can be a great way to learn about opportunities you might never have encountered on your own.
Start your search
The simplest way to search for jobs on LinkedIn is also the most obvious: by typing what you're looking for into the search bar. Entering a query like 'marketing jobs Los Angeles' will return a solid amount of leads, both in the form of job openings and posts from LinkedIn members that mention your search terms.
In addition to searching by field, you can search by job title, skill, or company. Using the filtering capabilities, you can drill down by date posted, experience level, and even the number of applicants the position has received thus far.
Use LinkedIn's easy-apply feature
One of the best parts about job searching on LinkedIn is the platform's 'Easy Apply' function. It allows you to submit an application without leaving the site using your profile in lieu of filling out a form. You'll be required to answer a few questions and may be asked to upload your resume or a cover letter.
Not every job posted on LinkedIn offers this feature; some still require you to click through to the company's website or other job application portal. If Easy Apply is available, you'll see the option on a blue button within the posting.
Take advantage of job alerts
Job Alerts are another useful LinkedIn feature that helps you stay connected with new openings that match your preferences. To set up an alert, search for a job title, industry, or company you're interested in.
On the top left of the Jobs results page, toggle the 'set alert' button to on. This will let you know when jobs that match your criteria are posted. You can then manage your alerts to select how often you want to be notified and on which medium (email, in-app notifications, etc.)

Join groups for your industry
LinkedIn Groups are another good way to hear about new jobs and spread the word that you're open to opportunities. You can find relevant groups by searching your industry or job function. There are also groups dedicated specifically to people looking for work, like the Job Seeker Discussion Group, which boasts close to 50,000 members.
Follow companies you're interested in
If there are a handful of companies that are on your list of dream employers, follow them to receive notifications when they post. Not only will this clue you in when they're hiring, but it'll also keep you abreast of company news which will make you a stronger candidate if and when you do apply for a job with them.
Following companies is easy. Just search them by name and click the 'Follow' button in their profile.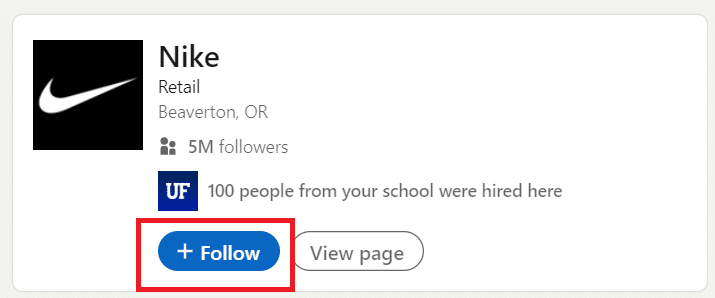 Leverage your connections
Referrals are consistently one of the top methods for landing a new job. Referrals can let you know about upcoming job openings before they're posted publicly, sometimes preempting the company from even considering other candidates. And, once you're in the interview stage, a positive reference from someone in your network can help you secure an offer.
Scan through your LinkedIn news feed regularly, as people often post when their companies or departments are hiring. Follow and connect with leaders in your industry so their posts show up in your feed. You can even research hiring managers at your desired employers and send them connection requests, which many hiring managers are open to receiving.
As with your job search as a whole, staying active on LinkedIn should be a regularly scheduled activity. Whether you log on daily or just once a week, check in consistently and stay on top of your job alerts to ensure that you can submit your application promptly to any promising openings.