Job interviews are all about making a good first impression, and how you dress plays a major role. A sense of professionalism, confidence, and personal style is important to convey. But how do you find the right balance? What is the best way to dress for success without feeling uncomfortable or out of place? And what is the difference between business casual vs. business professional attire?
In this article, we share the key differences between business casual and business professional dress codes, provide examples, and offer valuable tips.
What should you choose and when?
First, to know what to wear, we must know where you are going. Below we will break down a few standard settings where you might wonder what to wear.
Please keep in mind that our recommendations are for those who have not yet been advised on what to wear. If you were asked to wear a specific attire, you should wear that attire. It's also worth noting that you can always ask your host or primary point of contact to clarify in advance. Taking the initiative and covering your bases is always a safe option.
In-person interview
Recommended Attire: Business Professional
While some interviews specifically recommend that you wear business casual attire, a practice occurring now more than ever, you are better off being overdressed than underdressed. If your recruiter or HR contact didn't explicitly tell you what to wear in your interview, go with professional business attire.
Video conference interview
Recommended Attire: Business Professional
Just like an in-person job interview, making a great first impression on the recruiter(s) or hiring manager(s) interviewing you is essential. Dress to impress, and unless otherwise stated, wear professional business attire.
Phone interview
Recommended Attire: Business Casual
If you have a phone interview coming up, you might think it doesn't matter what you wear. While it's true that the person on the other end of the phone won't know what you are wearing, studies show that one's physical appearance can affect their state of mind. If you choose to dress down for your phone interview, ensure you are mentally "dressed for success," even if you aren't physically.
Business lunch or dinner
Recommended Attire: Business Casual or Business Professional
Whether you have been asked to attend a business meal with your colleagues or it's time to wine and dine with a client, wearing the proper attire is a must. In most cases, your company should advise you on what to wear. If they didn't, we recommend contacting the venue where you will be eating and asking what the dress code is (if any).
Company event or party
Recommended Attire: Business Casual or Business Professional
Company events range from quirky Halloween parties where a wide range of costumes and clothing is acceptable to formal black-tie fundraising events. Since the attire can vary so widely, it's more important than ever to check with your colleagues to determine what to wear. Ask those who have been there before, and make sure you gain a clear understanding of what to expect.
Business professional attire for women
Dressing conservatively and sophisticatedly is the main focus of business professional attire. This type of dress is more traditional and required in a professional setting like an interview or a business meeting. Companies in industries like finance, law, government, or real estate tend to enforce this stricter dress code.
What to wear for women:
Dark colors
Matching suit
Closed-toe shoes or a low heel
Formal blouse
Slacks or a long skirt with pantyhose
Minimal jewelry
What not to wear for women:
Open-toe shoes
Khaki pants
Short sleeve jackets
Low-cut or tight clothing
Clunky jewelry
Don't forget that your professional appearance goes beyond your attire. Make sure your hair is done, your nails are presentable, and your makeup is applied conservatively. Also, while this is likely unnecessary to point out, ensure you are clean and that your body is not the source of any foul odors.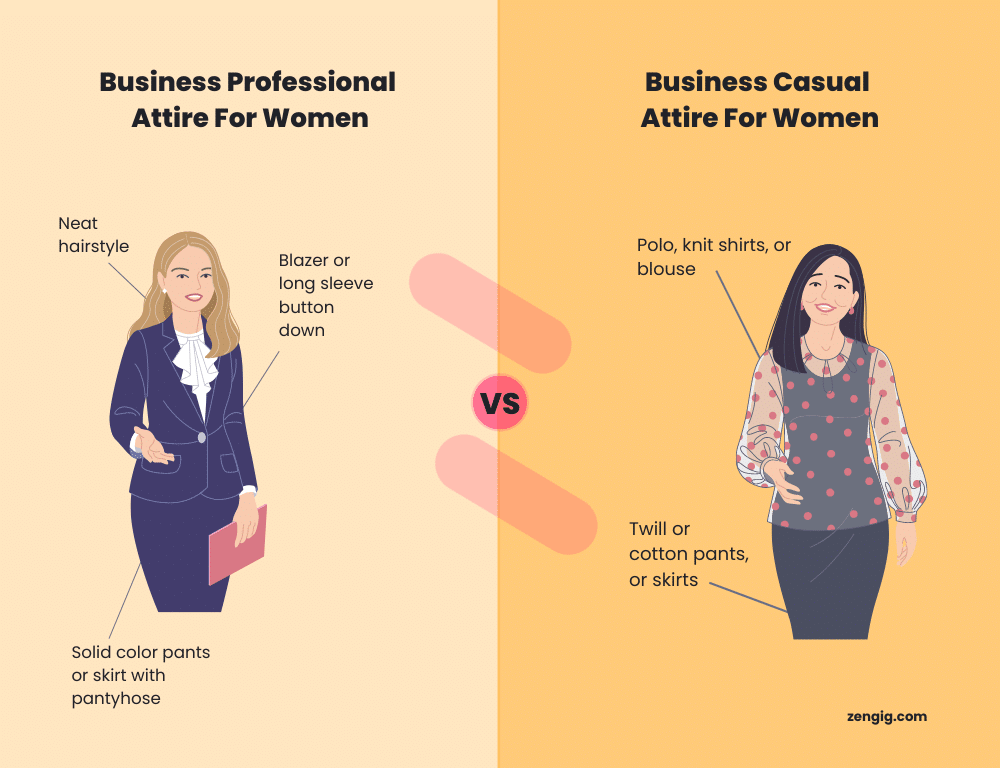 Business casual attire for women
Maintaining a professional appearance while balancing comfort and style is the goal for business casual attire. Here are some ideas on creating a polished and put-together business casual interview outfit, from dresses and skirts to pants and blouses.
What to wear for women:
Blouses or shirts with a conservative cut
Solid color sweaters or cardigans
Twill or cotton skirts, pants, or dresses that fall below the fingertips
Closed-toe shoes or peep-toe shoes
What not to wear for women:
Ripped clothing or pajamas
Gym or athletic attire
Jeans or shorts
Flip-flops, sandals, or sneakers
Although business casual attire is much more relaxed than business professional, it's still important to look beyond the clothes you will wear. Be conscious of how you smell. Are you wearing too much perfume? Were you sweating after a hard workout? Did you just drink a large cup of coffee? It's important to be aware of how you present yourself beyond what the eye can see.
Business professional attire for men
With business professional attire, the goal is to convey competence, authority, and attention to detail. For men, this calls for a conservative and classic look. From suits and ties to dress shoes and accessories, we have you covered! Whether you're applying for a dream job or refreshing your wardrobe, this guide will help you assemble a polished and professional outfit.
What to wear for men:
Solid color, fitted suit
Long-sleeve button-up shirt
Conservative tie without excessive graphics or colors
Wear dark-colored socks and black or brown dress shoes
What not to wear for men:
Jeans or shorts
Short-sleeve t-shirts or athletic attire
Khaki pants
Flip-flops, sandals, or rundown sneakers
Business professional attire for men is pretty standard across the board. A suit, button-up shirt, tie, dress shoes, socks, and maybe a nice tie clip or watch are all you need to look professional and impress your future employer. Continue to be conscious of your body odor, breath, and other vital factors while preparing for your interview.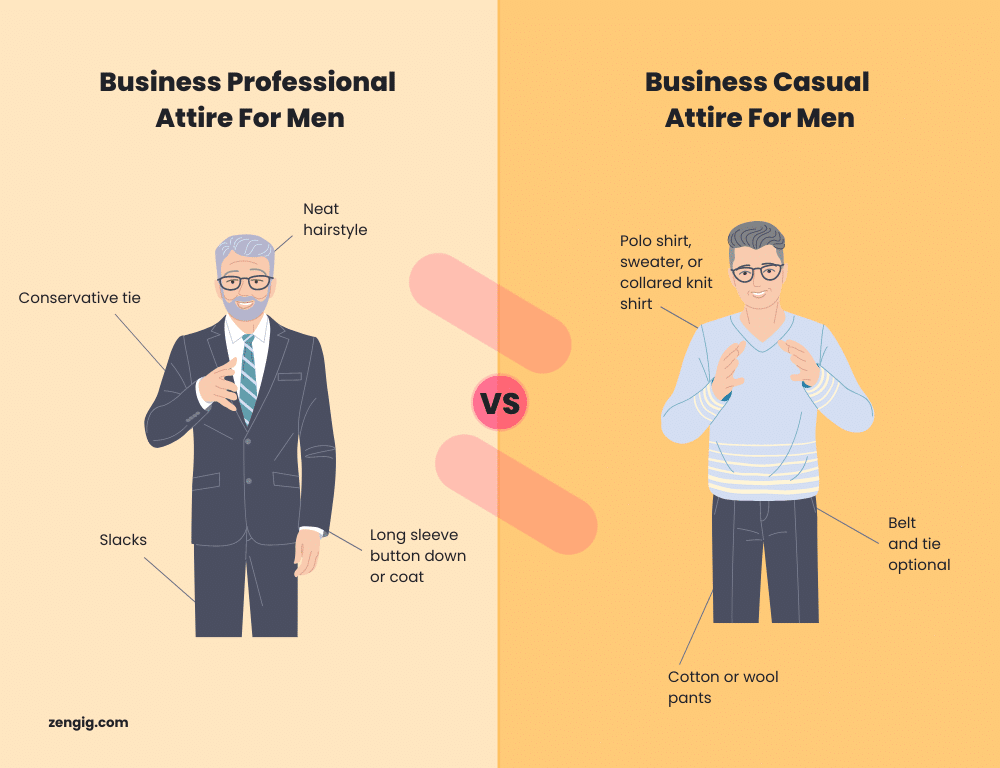 Business casual attire for men
Dressing in business casual attire allows you to maintain a professional appearance while feeling comfortable. From collared shirts and blazers to dress pants and chinos, here are some tips on creating a stylish and professional outfit for a business casual look.
What to wear for men:
Khaki or dark pants with a black or brown leather belt
Cotton long-sleeve button-down shirts tucked in
Professional-looking tie (optional)
Leather shoes in black or brown
What not to wear for men:
Jeans or shorts
Short-sleeve t-shirts or athletic attire
Tie with unprofessional images
Baggy or loose clothing
Business casual attire for men offers a vast variety of customization and typically allows for much more comfort than business professional attire. As always, remember that your presentability goes beyond your clothing and extends to your physical cleanliness, smell, hair, and more. Ensure you are clean-shaven, showered, teeth brushed, and when all else fails, run to the store and grab some deodorant and mints before your interview.
Tips beyond attire
While your attire is important and undoubtedly one of the first things that will be noticed, there's a lot more to a person than their clothes. The most crucial thing is to be confident in whatever attire you choose.
Suppose you are interviewing at a company that requires you to wear a suit and tie daily, but you hate dressing in professional business attire. In that case, you may want to reconsider whether that company is a good fit for you.
All in all, remember that you are unique. If you were advised to dress in a way that contradicts this article, by all means, go with the recommendations you were given by a company representative you are interviewing for.