You're at the peak of your career, with a strong track record of success and many years of leadership experience under your belt. Why worry about a silly piece of paper like a resume?
While creating an up-to-date resume might feel like an afterthought or poor expenditure of time and effort, it's still an essential document for the executive or board who's hiring you. So dig up that dusty old Word file and double-click it, because it's time to create an executive resume that shines.
What to focus on in an executive resume
Noteworthy achievements
When interviewing for executive and C-level positions, your resume should read like a highlight reel of success stories and case studies. It needs to be much more 'show' than 'tell,' using action-oriented language and impressive metrics to demonstrate the results you've achieved. It should also spotlight the recognitions you've earned within your field.
The value you'll bring
Executive hiring requires getting the right fit–finding the person who's going to be better at the job than all the other people who could've done it adequately. What will you bring to the role that other candidates don't have? What about your background makes you unique? You also need to spell out, in explicit terms, how you'll help the company, whether that's increasing profits, establishing a reputation, achieving sustainability, or whatever else is most important to your potential employer.
Why do you need an executive resume?
Convey your most current qualifications
Your resume isn't a static document. It should be a dynamic, frequently updated record of your achievements. You don't want to appear outdated by submitting a resume from ten years ago. Creating a current resume that highlights your most recent accomplishments will ensure you come across as the knowledgeable, up-to-date professional that you are.
Speak directly to the job you want
It's always a good idea to customize your resume for the job you want, but at the executive level, your resume should be highly tailored and created for a specific role and company. By writing a customized resume, you'll ensure there are no questions about your ability to succeed in this particular role, at this particular organization.
When should you use an executive resume?
At this point in your career, your credentials should speak for themselves, right? While it's true that your reputation may precede you, you should still use a resume to:
Define your personal brand
Convey your value proposition
Network
Meet the requirements of the application process when looking for a job
Common challenges and how to overcome them
Showing your personality
When hiring an executive, personality and chemistry are just as important as hard skills. Someone who has the right technical skills but who is the wrong fit for the company can be a disaster, both operationally and from a PR perspective. Let your individuality shine through your paper resume by taking a storytelling approach. Use language and phrases you'd actually use when describing your accomplishments to friends and avoid "resume speak" that comes across as cliche rather than impressive.
Summing up a diverse career
If you've taken a long and winding road to get to where you are in your career, you're not alone. Few executives follow a straight and direct path to the top, yet it can be tough to capture a diverse career in a couple pages. Instead of trying to document every twist and turn in your professional life, use the above-the-fold space of your resume—the top half of the first page and the space that's most likely to be read–to sum up your core competencies and most exceptional accomplishments. Then use the rest of the space to go into greater detail for readers that make it that far.
Lacking C-suite experience
If you're looking to land your first executive role, you've got to start somewhere. Build your resume the same way you would if you were a seasoned c-suite veteran. Emphasize leadership experience; department head and similar roles look great on an executive resume.
Executive resume format and key components
For executive-level professionals, the functional or combination resume formats are a good choice. A functional resume showcases skills and accomplishments over work history, while a combination resume is a happy medium to showcase both relevant experience and prominent skills.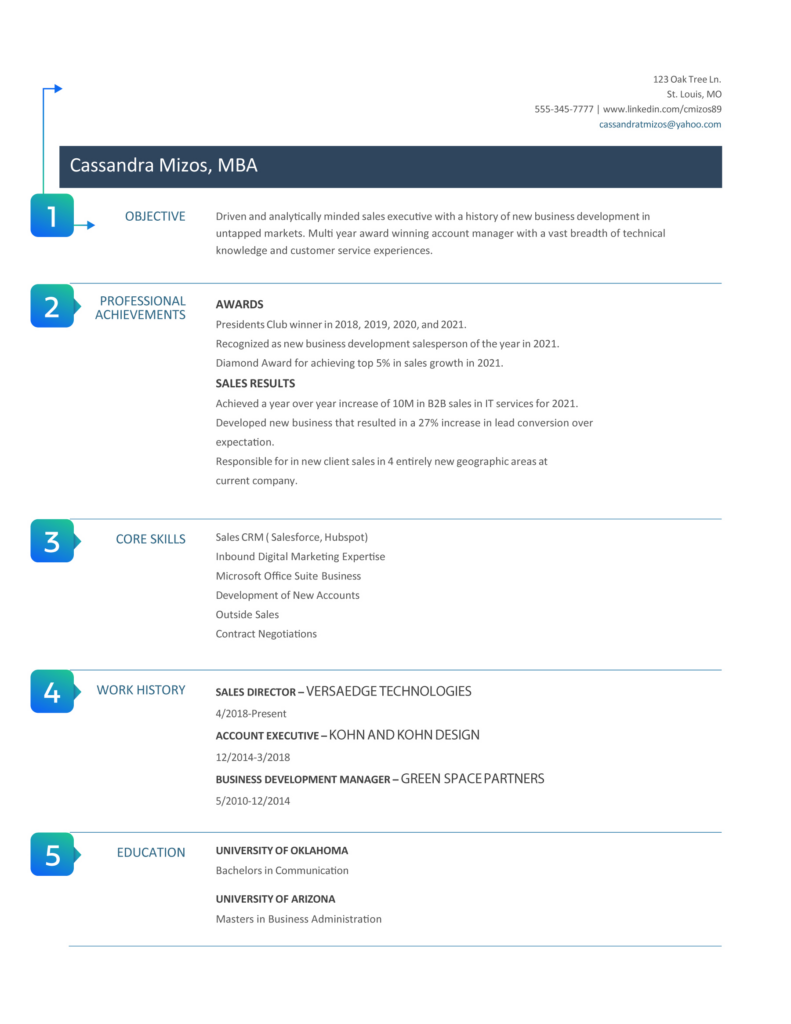 Here are the key components to include in your executive resume:
Custom header
Expand upon the traditional contact info to create a resume header that makes a statement. Include any professional credentials (MBA, CPA, etc.) as well as a summary statement that encapsulates your key achievements and the value you bring. Here's an example:

'Accomplished international sales executive with expertise in multichannel product distribution, strategic partnerships and growth marketing. Creative, decisive leader with proven track record of managing multi-million dollar accounts, identifying new markets and coaching sales teams to exceed targets.'

Don't be afraid to go a little longer than the one- to two-sentence objective statements that are customary for lower-level positions. This section of your resume is your best chance to make an impact, so use the space to its full potential.
Skills and competencies
List your most prominent skills/areas of expertise here. This is not meant to be a laundry list of every single thing you can do; most well-rounded leaders possess dozens of strong skills. Instead, it should spotlight a handful of areas where you're more knowledgable or it's reasonable to say you're an expert.
Experience
It's up to you whether to list your work experience in reverse-chronological order, like in a traditional resume, or to group experiences by skill type like in a functional resume. The key in this section is highlighting noteworthy accomplishments. Use metrics to quantify your achievements (i.e. 'oversaw $40 million in contracts across 12 countries') and show successes wherever possible.
Professional Achievements, Credentials, Associations and Other Awards
Professional accolades, specialized certifications, leadership roles in industry organizations and other relevant activities can be listed in their own dedicated section in bullet-point form.
Education
Save this section for the bottom of your resume unless there's something that makes it especially relevant to the position. Include the school and the degree you obtained.
FAQs